Private Hire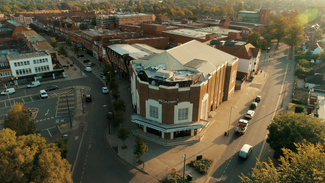 Whether you're in celebration, corporate or education mode, Broadway Cinema & Theatre is the perfect space for your event. This iconic Art Deco cinema in the heart of Letchworth Garden City has been charming residents of the local area since 1936. Broadway is home to four state of the art cinema auditoriums for all your technological requirements, an enchanting original-style Art Deco foyer to welcome your guests, and a classy, intimate bar area.
Our four screens have the following capacity:
Screen 1 is located on the first floor with ideal access to the bar. It holds 453 people, which includes 2 wheelchair spaces and a wheelchair lift to transport users in and out of the screen.
Screen 2 & Screen 3 are located on the ground floor. Both screens hold 173 people including 2 wheelchair spaces. These Screens have step-free access.
Screen 4 is located on the first floor; holding 51 people including 2 wheelchair spaces.
Every screen is equipped with laser projection and can accommodate PowerPoint presentations and microphones.
What other buildings can I hire?
Standalone Farm's picnic barn offers the perfect setting for your private event, set on a small farm just outside of Letchworth town center it offers a lovely indoor rustic space for your guests to enjoy. If rustic barns aren't what you need then Broadway Gallery is the perfect slick space to host a conference, intimate dinner or drinks reception.