Access for customers with limited mobility
All areas of our cinema are accessible to customers with limited mobility including wheelchair users. Broadway 2 and 3 are located on the ground floor. Broadway 1 (including the Theatre) and Broadway 4 are on the first floor, and a lift is available to this floor from the main foyer. In Broadway 1, there are stairs leading up into the auditorium. There is a wheelchair lift on these stairs.
Booking for wheelchair users
Each of our auditoria has designated spaces for wheelchairs and their carers. Two wheelchair spaces are available in 1, 2 and 3, and one space is available in 4. You can view these spaces on our seating plans. The best way to book spaces is to call us on 01462 681300.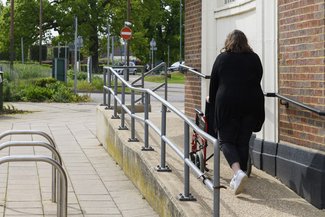 Cinema Exhibitors' Association (CEA) Cards
As part of a general cinema industry initiative, we accept CEA Cards, which entitle the cardholder to one free cinema ticket for their carer. We are also pleased to extend this to theatre bookings. To book your tickets a valid card will need to be presented in person at Broadway Cinema & Theatre to allow us to validate your card. We are currently unable to accept online bookings using a CEA Card as we need to view the card to check its authenticity however we are working with our ticketing solution provider to enable this in the future. For further information please visit the CEA website. 
We also accept Herts Carer Cards, which offer a 50% discount on cinema tickets. We are currently unable to apply the discount online so please pop into Broadway Cinema to book over the counter or give us a call on 01462 681300.
Guide/Assistance Dogs
We welcome guide or hearing dogs in all our auditoria. If you tell us in advance, we'll make sure an aisle seat is reserved and a bowl of water is available.
Customers with hearing or sight loss
We are pleased to offer accessible cinema for people with hearing or sight loss, enabling everyone to enjoy the cinema experience. We offer a number of subtitled performances each week for the hard of hearing. All of our screens are fitted with a hearing enhancement system and audio description, which is a recorded narration delivered through wireless headphones that explains what is happening on screen - please ask for a set of headphones at the counter. Headphones will be sanitised before and after use.  Approximately 80% of films are available with audio description.
As the theatre programme becomes more established, we aim to introduce performances in BSL and with