Our Story
We are proud to be owned and run by the Letchworth Garden City Heritage Foundation, a Community Benefit Society that reinvests the money made from its commercial portfolio to support a wide range of charitable commitments.
This unique financial model means that the money from those who rent our houses, shops, offices and industrial units goes directly back into the town.  This includes our grants programme, which in 2022 allocated £196,000 to supporting community groups, clubs and societies as well as individuals who are striving to 'Be the Best' at music, sport, art and much more.
This income also supports the Foundation's other venues and services including the Broadway Gallery, Heritage Advisory Centre, the Garden City Greenway (13.6 mile route around the Garden City), International Garden Cities Institute, Garden City Collection and Standalone Farm.
Keep up to date with all our news and events over the coming year by signing up for our monthly newsletter via the Heritage Foundation website.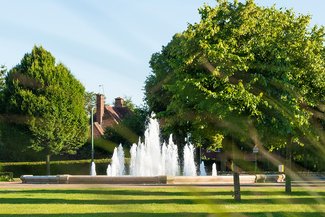 Broadway Cinema opened its doors on 26 August 1936 to a packed screening of Follow the Fleet starring Ginger Rogers and Fred Astaire.  
This beautiful Art Deco building, designed by Bennett and Bidwell and built by Howard Hurst, fast became a popular venue for occasional rallies, speeches and live music from the likes of Acker Bilk and Marti Wilde.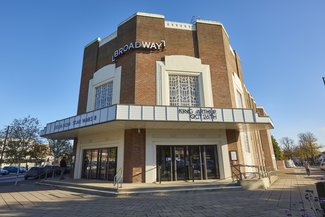 More recently Broadway Cinema featured as one of the pubs in the film The World's End, starring Simon Pegg, which Director Edgar Wright filmed around Letchworth, giving audiences the thrill of seeing the their home town on the big screen.
Building on the success of Broadway Cinema, the Heritage Foundation decided to bring together all of Letchworth's arts venues under the Broadway name. In February 2016, Letchworth Arts Centre became Broadway Studio & Gallery, exhibiting arts, craft and design by internationally acclaimed artists alongside local and emerging talent.
Over the summer and autumn of 2016, the Cinema underwent a major refurbishment, re-opening as Broadway Cinema & Theatre. The venue now has a professional stage, backstage area and dressing rooms, making it a true 2-in-1 arts venue that programmes live theatre alongside films and event cinema.
Together, Broadway Cinema & Theatre and Broadway Studio & Gallery provide a vibrant arts and culture programme for Letchworth.
You might also be interested in…